In Memory
Judy Dudley (Rosenburg)
Judith Dudley Rosenburg
Lansing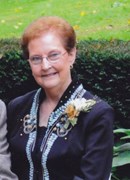 Judith Dudley Rosenburg, born April 30, 1942 in Lansing, the daughter of the late Roy and Carol Dudley, passed away on December 6, 2016 at the age of 74.

Judith liked to play golf, travel, and walk along the shores until her health started to fail. She enjoyed spending time with her grandchildren and will be greatly missed by all of her family. She would knit scarfs and various other items and then donate them to wounded warriors. Judy was a lifelong member of Pennway Church of God. The family would like to thank Hospice house of Mid-Michigan for their professional care and services.

Surviving to cherish her memory are; her husband of 56 years, Richard "Dick" Rosenburg; sons, Richard "Rick" (Gemma) Rosenburg of Leesburg, VA, and Timothy "Tim" (Barbara) Rosenburg of Jefferson, Ohio; grandchildren, Timothy Jr. (Kristina), Brian, Damon, and Kaleigh; sister, Carol Lee Kidder.

Visitation will be Friday, December 9, 2016 from 6:00-8:00 p.m. at Gorsline Runciman Funeral Homes 900 E. Michigan Ave., Lansing, Mi. Funeral services for Judith will be held 11:00 a.m. on Saturday, December 10, 2016 with visitation at Pennway Church of God 1101 E. Cavanaugh, Lansing MI.

In lieu of flowers memorial contributions may be made to Pennway Church of God 1101 E. Cavanaugh, Lansing MI.
Published in Lansing State Journal on Dec. 8, 2016