In Memory
Glenn Coryell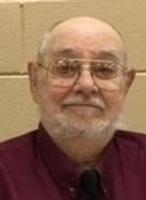 Glenn N. Coryell
Lansing
Glenn N. Coryell, 76, passed away peacefully surrounded by his family on Monday, June 11, 2018. He was born in Grand Haven, Michigan to Glenn W. and Flossie Coryell,
and was a journeyman electrician, belonging to the IBEW Local #665. He was also a member of the Okemos Masonic Lodge #252 and the Okemos Eastern Star Chapter #267. In addition,
he was a member of the Lansing Commandery #25 Knights Templar. Glenn enjoyed hunting and fishing in his younger years, and the greatest pastime of his life was reading - mostly science fiction and history, but he loved a good Sherlock Holmes mystery. He was phenomenal at Trivial Pursuit, most likely because he enjoyed watching and playing along with Jeopardy so much.
He was preceded in death by his father.
He will be lovingly remembered by his wife of 57 years, Kay Coryell; his mother, Flossie Coryell; his children, Terri Coryell, Karen Coryell Thomas, Ellen (Jim) Satterlee, and Glenn Patrick (Cathi) Coryell; his 9 grandchildren; his 3 great-grandchildren with two more on the way. Also survived by three sisters; Evelyn (Gary) Boynton, Ruth (Dave) Neitering, Edna (Jack) Button, brother; John Coryell.
Funeral Services will be held on Friday, June 15, 2018 at 11 am at First United Methodist Church, 3827 Delta River Drive, Lansing. The family will receive friends one hour prior to the service, and on Thursday, June 14, 2018 from 3 pm until 6 pm at Gorsline Runciman Funeral Homes, Lansing Chapel, 900 E. Michigan Ave., Lansing. All are welcome to attend an Eastern Star Service at 5:30 pm.
Online condolences may be expressed at www.grlansing.com.