In Memory
Peggy Otto (Hart)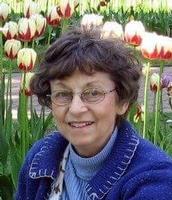 Peggy Ann Otto (Hart)
Peggy Otto Hart passed into the care of our Lord on October 17, 2018 at Holland Michigan, four days after suffering a massive bleeding stroke.
Peggy was born in Lansing Michigan on July 7, 1942 the only daughter of Vernon Otto and Bernice (Herner) Otto.
Peggy was predeceased by her mother, father and a brother, Vernon (Buddy).
Surviving are Nelson, her husband of 54 years, along with their children, David and Tammy; her brother, Michael and his children, Mike (Brandy) and Tyler plus several cousins, nieces and nephews. Among her surviving cousins is Peggy Herner, a fellow graduate of Eastern High School's Class of 1960.
After graduating Eastern High School, Peggy attended Fort Wayne Bible College and Michigan State University before earning a B. S. in Education from State College at Salem, MA. Teaching elementary students to read was her passion. She taught the New Zealand-developed "Reading Recovery" program in Parchment MI and in Zeeland's New Groningen elementary schools. She loved to hear students of all ages sing and play music, eagerly awaiting each Tulip Time's marching band and Holland High's choral performances. Her annual highlight was Hope College's Christmas Vespers. Peggy exhibited unwavering confidence in the power of love; she clearly treated every person with dignity. A member of Holland's First Presbyterian Church and its Hannah Circle, she previously served as Presbyterian elder in Albion MI and Monmouth IL. In the late 1990's Peggy and Nelson, with three other couples, were cofounders of the Holland/Lakeshore chapter of PFLAG, a nation-wide extended family of the LGBTQ community.
In her life Peggy was a blessing to all those who knew her.
Cremation arrangements are by Lakeshore Memorial Services; you may leave condolences at www.lakeshorememorial.com.
A family-organized celebration of her life will be held on November 3rd at First Presbyterian Church, 659 State St. Holland MI.
The celebration will begin with an informal gathering at 2 PM. Services will begin at 3 PM.
There will be light refreshments in the Fellowship Hall following the service. If you wish, in lieu of flowers, please make donations in Peggy's name to:
Cancer Research
Community Action House
345 W. 14th St. Holland, MI 49423
PFLAG